A hummus bar with a secret ingredient, an authentic French deli-patisserie and locally brewed beer! A kicking scene of artisans and creators, a reconstructed original bus that arrived to Eilat in the 1950s, Eilat's first post-lady and Eilat's first ice cream parlor where the ice cream and cones are homemade. These are just some of the hidden gems that can be found along the secluded urban streets of Eilat where you can meet the warm and welcoming faces of the people that call Israel's leading resort city… home!
Eilat Tourism Corporation continues the summer tradition with a variety of prior registration free guided tours with tourism development advisor, Yael Lerner.
The tours will take place on Monday-Thursday and feature three different content categories:
---
Local Cuisine Tours in Surprising Venues
3 different experiential tasting tours, in intriguing, distinctive and secluded locations, in Eilat's industrial zones
---
In the southern industrial zone:
A culinary tour of the southern industrial zone includes a visit to Tzlil's Bakery & Café where you can meet and mingle with the locals, followed by a visit to an authentic French deli serving refined French dishes and delicacies. After that we will visit a surprisingly tasty hummus eatery, with a secret ingredient that upgrades every dish, and finish the tour at a wine cellar store that sells more than you can imagine.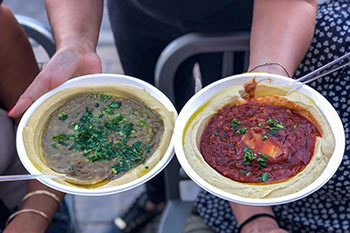 In the northern industrial zone:
we will embark on a journey to France via Chef Avraham Alimi's patisserie, to taste the most scrumptious pastries ever. Then, on to India, visiting an enchanting family restaurant that brings the authentic flavors and aromas of India to Eilat. Hummus eateries are always a must…and the one we will visit next promises to be 'finger licking good'. After all those scrumptious dishes, we will wrap up the tour with a well-deserved, refreshing, locally brewed beer at Israel's southernmost brewery, while enjoying great vibes.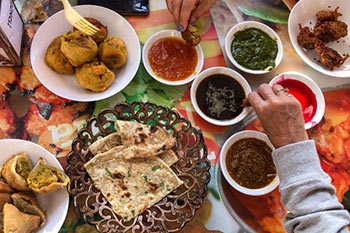 In the central industrial zone :
The central industrial zone is exciting no less than the previous! Here we will enjoy heavenly cakes and pastries at a new, recently opened patisserie. No tour is complete without street food, which is our next stop, and includes mouthwatering grab & go dishes, prepared by one of Eilat's leading, talented chefs, (recently invited to participate in one of Israel's popular reality shows)! We will finish the tour with wine tasting at one of the city's most chic and stylish venues!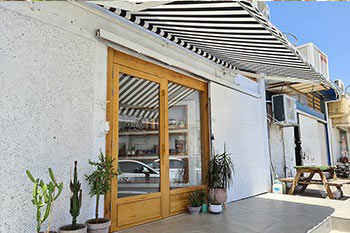 ---
Historical Tours
Two tours down the 'Memory Lane' of Eilat, accompanied by fascinating, moving stories, told by veteran residents of Eilat
---
Once Upon A Time Tour:
A historical tour, unravelling the fascinating past of Israel's southernmost city, from the days of Umm Rash-Rash and the story of the 'Ink Flag'. We will then visit one of the first buses that for 10 shaky hours, along winding desert roads, transported those arriving to the city, followed by viewpoint with unforgettable 360-degree panoramic views of Eilat and its bordering neighbor countries…and for dessert? A visit to Eilat's first ice cream parlor to taste homemade ice-cream and cones, that are still made using a well-kept traditional recipe!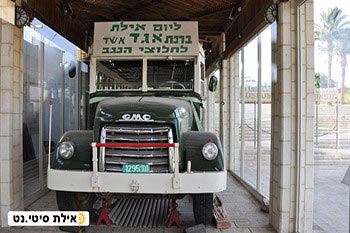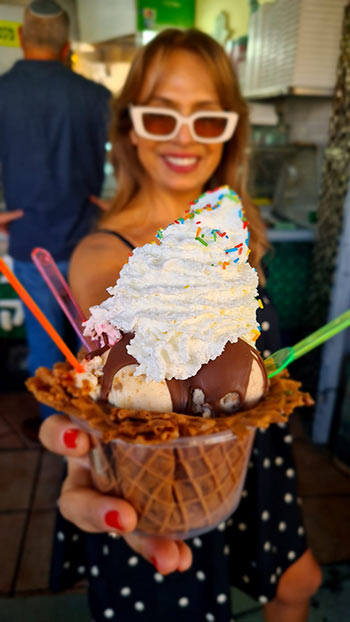 Eilat's ''Ancient'' Neighborhood Tour:
A tour of Eilat's most veteran neighborhood and the opportunity to hear nostalgic stories and local tales. During the tour we will meet Eilat's first post-lady and enjoy a tour of the neighborhood known as "Neve Tzedek Eilat", juicy tales of Eilat's first nightclub, stories of the establishment of the city's first hospital and a surprising discovery in the home of a local artist, which is actually a fascinating museum displaying a variety of artworks.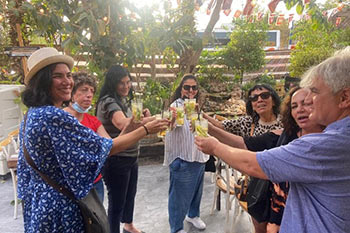 Inspirational Tours:
A wonderful opportunity to meet inspiring local artisans and creators. Meet the young, autistic and visually impaired artist, Nevo Afek, whose impressive works have been exhibited in the United Nations Secretariat Building and at additional distinguished global exhibitions. Nevo's works display his unique ability to implement vibrant colors and intensity of expression in works of art, despite being unable to see the whole picture due to his disability. We will then visit Abraham Hostel which displays outstanding wall murals and graffiti art and for dessert….? A visit to Eilat Wines, a stylish and bustling complex, to taste wine and savor an exhibition of works, by local artist Adam Lass.